In 2010, I retired as Vice President for Scientific and Regulatory Affairs at the Pharmaceutical Research and Manufactures of America (PhRMA). While at PhRMA I was a program manager for the Observational Medical Outcomes Partnership that lives on today as the Observational Health Data Sciences and Informatics program (OHDSI). In March I decided to start a daily newsletter for fellow pharma industry retirees about scientific and clinical issues related to the SARS-CoV-2 (commonly referred to as COVID-19) pandemic. It was not designed to be a comprehensive survey of what was going on but rather a daily highlight of important findings. The newsletter continued for 37 weeks at which point the first COVID-19 vaccine received emergency use authorization in the United States. I am archiving the weekly aggregates of the newsletter on this web page as well as adding other content material including music selections and pandemic recipes. Do scroll down. Any comments can be directed to me via email: Alan Goldhammer. If you wish to visit, THIS LINK will take you to my photography website.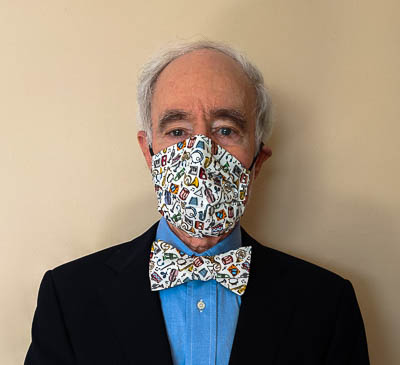 I hope these materials are useful and of interest.
Alan
SARS-CoV-2 (AKA, COVID-19): It's here; we know what to do; and we are doing it!
Stay Safe, Mask Up, and Wash Hands
My mask and bow tie come from Lisa Eaton's fine Bow Tie Company.
Pandemic Clinical Trial Paradigm
I have written a working paper that describes a centralized clinical trial approach to testing new and repurposed drugs for SARS-CoV-2. Traditional clinical research models may not be nimble enough to address pressing health problems in a pandemic. I hope this furthers discussion of how to optimize research into disease prophylaxis and treatment for zoonotic viral outbreaks into non-immune populations. This document will be updated with new findings and references. Reader comments are welcome: CLINICAL TRIALS DURING A PANDEMIC
In order to help further the public health I am working on a COVID-19 Scent Strip that will assist in diagnosing whether one is suffering from virus-induced anosmia (loss of smell). A PROVISIONAL PATENT for this invention has been submitted.
Weekly Reports
Pandemic Music Selections
I added a daily music selection to help add some levity to what has been a serious situation. I have excerpted out these music selections into a SEPARATE FILE HERE so those who are seeking comfort through music may find solace. I hope you enjoy these eclectic selections. This file will be updated weekly with the new selections.
Pandemic Recipes
If you are in search of a good comfort food recipe try my Chocolate Chip Cookies, or my Peanut Butter Cookies!